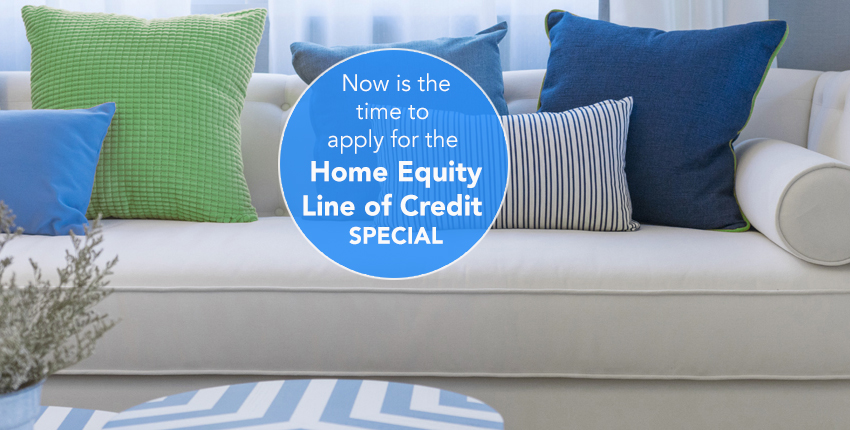 ---
---
Ask Us About Our Rates!
Home Equity Line of Credit
---
Tackling home improvements? Planning a vacation? Looking to buy a new car? Use the equity in your home to your advantage! Act now with this great introductory rate and waived closing costs!
You could also use the equity in your home for:
Debt Consolidation
Education Expenses
Wedding Expenses
and more!
---
---
* APR = Annual Percentage Rate. Introductory rate of Prime minus 1% begins on date of closing and is effective for 12 months. After the 12-month period, the maximum APR that may apply is 18% and is disclosed in your Home Equity Line of Credit Account Credit Agreement and Disclosure Statement. Variable rate based on credit. Minimum loan amount of $5,000. Payments will be interest only for a 10-year period, with a balloon payment of all outstanding principal due at maturity. Example loan for $20,000, introductory rate Prime

minus 1% for 12 months of

a term of 120 months, with an interest only monthly payment. After 10 years, a balloon payment of $20,000 would be due.
Closing costs typically include title insurance, recording fee and range from $350 to $1,200. These costs are initially waived by ChoiceOne Bank. Property insurance required. Programs, rates, terms and conditions are subject to change without notice. Introductory APR offered on new ChoiceOne Bank Home Equity Line of Credit. Customers who currently have a Home Equity Line of Credit through ChoiceOne Bank are not eligible. Offer valid on owner occupied property only where collateral loan to value is 80% or less. Proof of income required, subject to normal underwriting guidelines. Other restrictions may apply. Introductory APR offer good January 1, 2023 through June 30, 2023. Subject to credit approval.
**Variable rates based on Prime plus or minus a margin (margin identified at time of application, is defined as the number of percentage points the lender subtracts or adds to the index rate to determine the annual percentage rate to be charged).
Member FDIC. Equal Housing Lender.